Expert Roofing Repair in Camby Indiana
FREE Inspections Call 317-442-9480
Roof Repair Camby, Indiana
Is your roof damaged and in need of repair? Trojan Roofing is a local roofing company that is experienced in repairing all types of roofs. No matter the size or severity of the damage, we can handle it quickly and efficiently. We want to help you get your roof back to its original condition as soon as possible. We understand that having a damaged roof can be stressful. That's why we work hard to complete our repairs as quickly as possible so you don't have to worry about it anymore. We also offer free estimates so you know exactly what the repair will cost before we begin any work. Contact us today for a free estimate on roof repair services!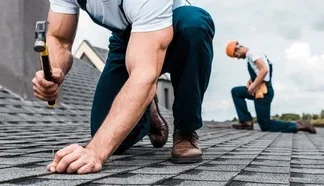 Expert Roofing Repair in Camby Indiana
Trojan Roofing offers expert roofing repair services in Camby, Indiana. As a local roofing company serving the Camby, Indiana area, we have years of experience completing roof repairs of all types. Whether it's a small leak or major storm damage, our team is equipped to handle it efficiently and effectively. Here are some of the all-too-common roofing problems that we fix:  Roof Leaks Roof Holes and Cracks Snow, Hail, and Wind Damage Dings on the Shingle Roofing Granular Loss Cracked Shingles Compromised Seal Integrity  Being one of the highest-rated, most dependable roofing companies in Indianapolis, we take pride in our excellent customer service and quality roofing services. Our major services would include roof storm damage, hail damage repair, hail-proof roofing, roofing replacement, roofing installation, shingles, and gutter repair, rain gutter installation, gutter guard services,  emergency roofing repair, etc.  If you suspect there may be a problem with your roof, don't wait to call us. Even small issues can lead to bigger problems down the road, so addressing them promptly is crucial. Our team will come out for a thorough inspection and provide you with a detailed plan for repairs.
Everything You Need To Know
What makes us different from other roofing companies in the area? For starters, all of our roofers are extensively trained and certified in their field. We also use top-quality materials to ensure your roof's durability and longevity. Not only that! We have also extended our expertise not just to our loyal residents, but we also do commercial roofing projects backed by our high quality and professional roofing experience. 

Don't let a faulty roof bring you down – trust the professionals at Trojan Roofing, Camby Indiana for all of your roofing needs. Our expert roofers are here to help you get your roof back in tip-top shape in no time.
Located mostly in western Decatur Township, Indiana, and extending into Hendricks and Morgan counties, Camby (also referred to as "West Union Station") and centered along Camby Road and State Road 67.
Camby is a community of 7,014 people in Indianapolis, Indiana. Camby is a town in Marion County. The majority of Camby's residents own their homes, giving the neighborhood a sparse, suburban vibe. Camby is home to many traditionalists who value family life.
In the southwest portion of the Decatur Township is where the Indianapolis International Airport is mainly located. 
Here are some of the interesting places to see in the neighborhood of Camby, IN:
Victory Field
Mallow Run Winery
Anderson Orchard
Hummel Park
Who North America
Indiana Repertory Theatre
Chateau Thomas Winery
Pioneer Park
Carmike Theatre
Splash Island

With years of experience serving Indianapolis, we're proud to be the trusted choice for a professional and high quality installation. Contact us today for your free estimate.

With years of experience serving Indianapolis, we're proud to be the trusted choice for a professional and high quality installation. Contact us today for your free estimate.
Copyright © Trojan Roofing. All Rights Reserved.